Over the course of the week surrounding the recently held EipixCON, we had the pleasure of hosting a pair of very special ladies who have traveled long and far to be our guests of honor.
Through their continued support and appreciation for our games and our work, these ladies have become more friends than fans, and meeting them face to face after years of correspondence was a joyous, emotional moment for everyone involved.
Once the dust of EipixCON has settled and we all had a chance to wrap our heads around what was a pretty hectic and eventful week, we sat down with our guests of honor for a little chat. Without further ado, we present to you Merrill Cholik from Canada and Bea Maurer from Austria.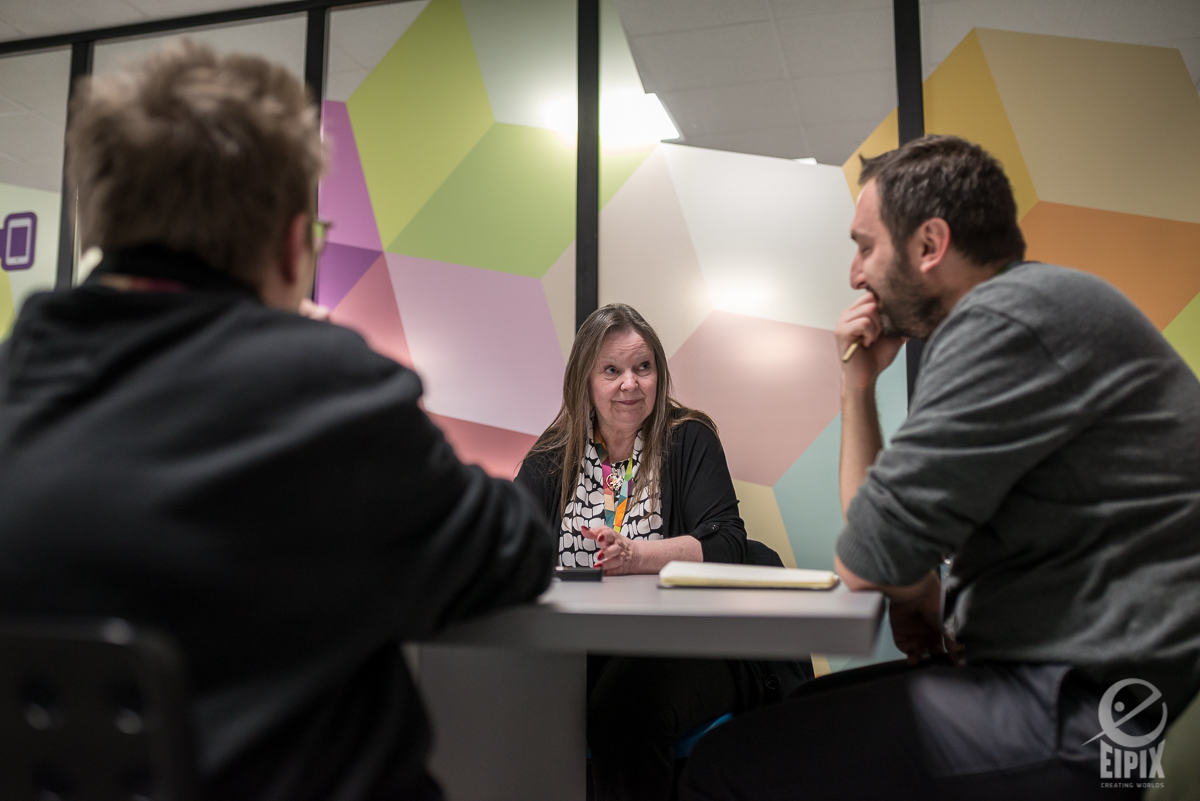 Eipix: For starters, could you tell me a little bit about yourselves?
Merrill: My name is Merrill, I'm a mother and a grandmother first and foremost, and I work two part time jobs just to stay sane. And I love Eipix!
Bea: My name is Bea, I love Eipix as well. I've started working life as a teacher, went on to a library, worked for a publisher, now I'm a freelance journalist, writer and editor.
Eipix: How did you get into hidden object games, and when?
Bea: My love for hidden object games started with books. The publisher I was working for did a series of physical hidden object books. That was in the beginning of the 90s, when "Where's Waldo?" became known. We bought the license of a Canadian publisher, and I fell in love with hidden objects. I only discovered the games much later, around 2008.
Merrill: For me it was in 2001. Somebody sent me a puzzle of a picture, and I had to go to the Big Fish site to get the picture. I stayed on their website to see what kind of games they had, and the first one I hit was a hidden object game. I thought "Oh, I like this". They planted a huge hook and I bit it, and I've been playing hidden object games ever since. When I stayed home for two years, I retired and went crazy. While I was going crazy, I was on Big Fish all the time, and that's when I really started playing hidden object games. One day I came across an Eipix game, and because I had played so many of them, I could see such a difference in your games from everything else I had played. That's why I sent my first letter, I kept thinking "Oh my god, these people are brilliant! There is no comparison." I am an Eipix snob.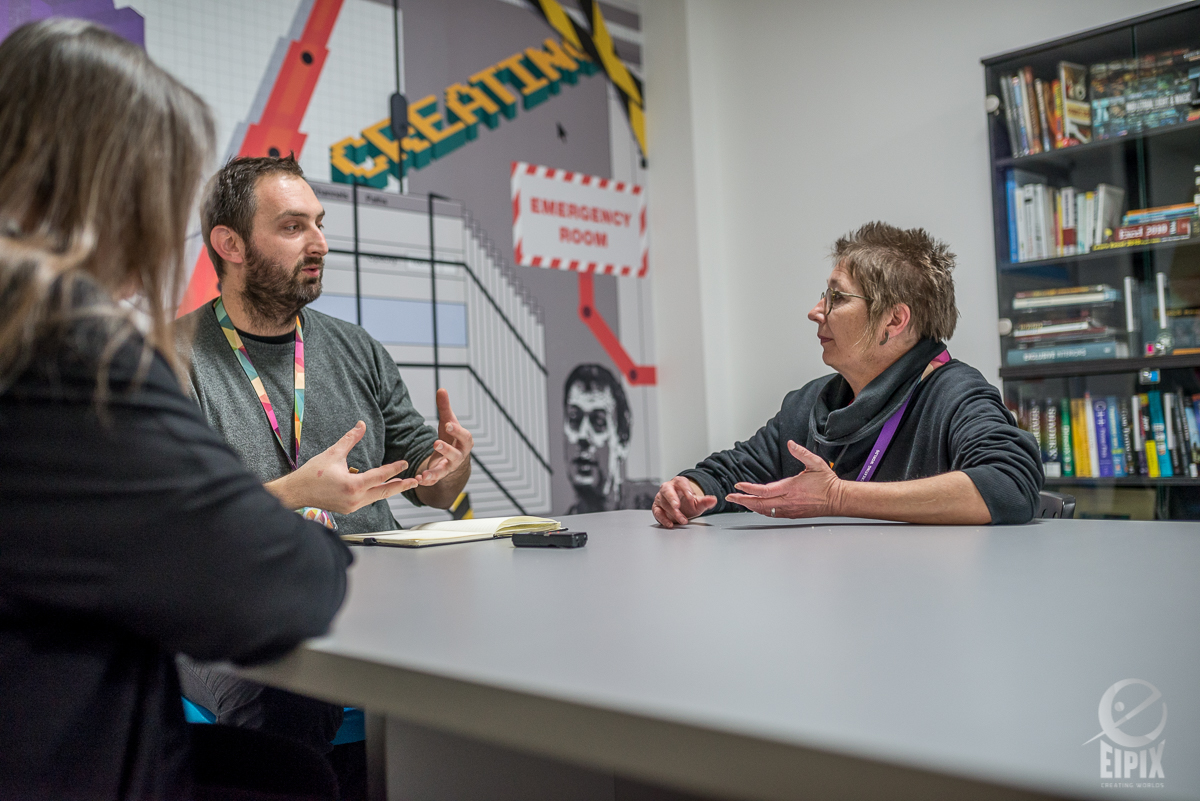 Eipix: Both of you knew something about our company before – from our games, our website, the forums… How was your impression of Eipix beforehand different to your impression now?
Bea: I was very impressed with your games from the first one I played. When I joined the forum Pond Friends, I got to know more about the company. I started to check your website, and I checked your Facebook from time to time. Of course, pictures began to build up in my head, but when I came here and saw it all in real life, I was speechless. I still am! But I'm actually really, really impressed. You cover so many aspects that I think are important for a good work-life balance. You employ people with disabilities, I have the impression that you treat your employees very well, you've got benefits which are probably not the norm in Serbia… I'm absolutely overwhelmed.
Merrill: I have been watching "The Making Of…" videos from the very beginning. I've seen the apartment where everything started, and over the years, I've watched your growth, which has impressed me. Every year I've read what Mirko says about what you want to do next year, and he manages to do it. Most of the time. And to actually be here and see where it has come from… And what impresses me the most is that everybody seems to be happy here, and that's one reason why I think you're so good at what you do – you're in a better mindset. When you're happy, you can work better.
Eipix: Was anything different from what you expected? Did anything surprise you?
Merrill: The size! You don't really realize from the pictures how big this building is, and although I knew it was over 300 people, when you walk in here and just see them! It's the way it's all organized – in one room you have the producer, and then all down the line, it's the whole group. They're all there, they can converse with each other. I understand it wasn't always this way.
Bea: I tried not to build up too many expectations. I was just hoping to be able to meet as many Eipix people as possible, as Mirko, you, Vladimir and people you often see in games, as Ljubomir "Sam" or Radovan. And David, the producer who likes melissa tea. It was so nice meeting them for real! The most surprising bit for me was the atmosphere. So many hard working people, yet so much fun in the air.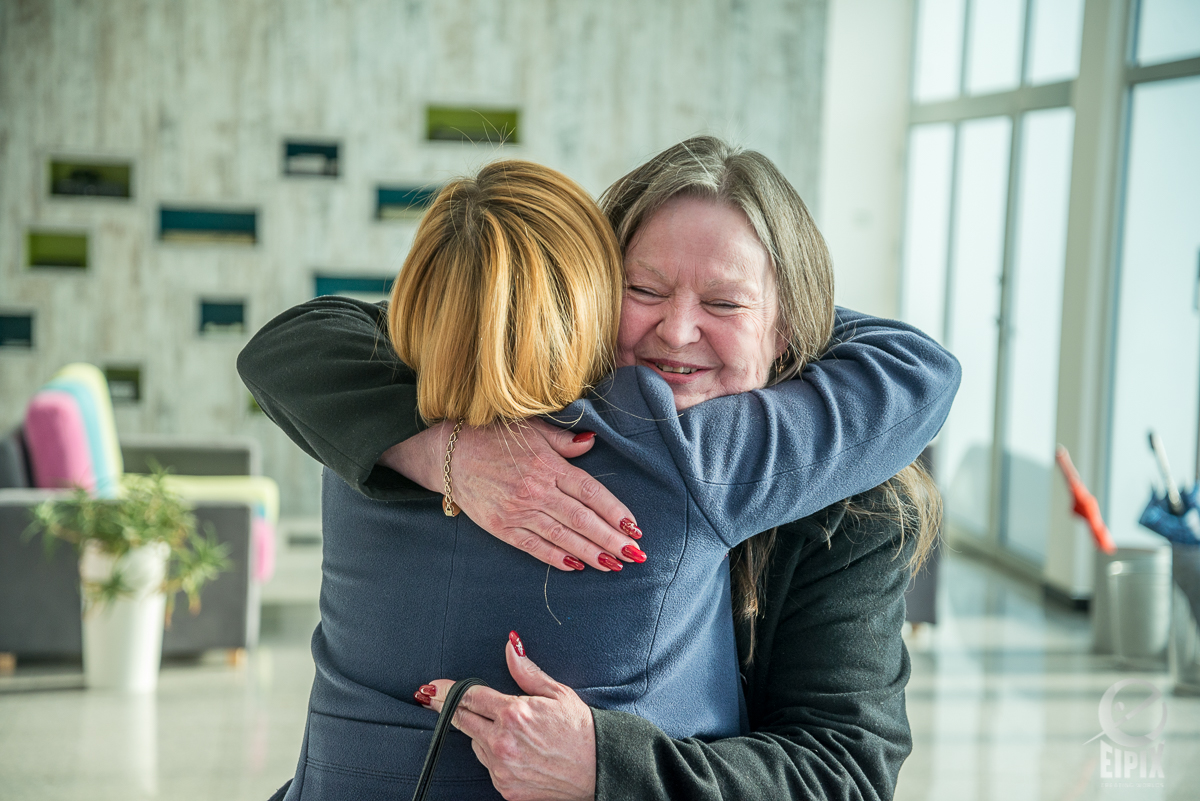 Eipix: You've been to EipixCON as well, what was your impression?
Bea: I'm not allowed to tell! I signed an agreement, I'd get into real trouble! Impressed is too small a word. It was overwhelming – the organization, the content, we saw cutscenes from future games and I immediately got goosebumps! When the real movie (Rogue One) started, I was lost for a few minutes, I was so geared into playing a game I was looking for the mouse and I thought "Wow, they have good voiceover".
Eipix: Were you surprised by the scope of everything the company is doing outside of HOPA games?
Merrill: When I saw the list, before Mirko even started talking, I thought that there were a few projects that I wasn't too sure about. I was again impressed by all the projects. Your eggs are not all in one basket, which is good. You're diversifying, trying new things. You're not stagnant, you're venturing out and it's remarkable to see where you come from and where you're going. The conference itself was very good, as far as logistics go, keeping everybody happy and satisfied… We need better words for this! We're having a problem describing what this has done for us.
Bea: I did know about a few things, because I checked Mirko's profile on LinkedIn. I knew about Sonic Dune and the Academy, which was also mentioned in the newsletters. I knew about Outmagine and Imagine Incredible – but the rest was new to me!
Eipix: You also had the chance to spend some time in QA and play some games that are in development. What did you think of that experience?
Bea: That's my next profession! It was so much fun. Of course, it's not the same if you do it professionally. Like people working in chocolate factories, you think that's a brilliant job, but most of them can't eat chocolate. It was most interesting for me to learn about the process, how the game is tested, and how it's done. I really appreciated playing the game, but it was just 20 minutes. Then I played the hidden object scenes of the first Vermillion Watch, in between the game at 5x the speed – I nearly fell off my chair! Hilarious! Off course this feature is very useful when you test the games.
Merrill: That was the one thing I was really looking forward to. I play these games and I think to myself "How do they come up with this? How do they think of this? How do they do this?" They set the game screen so that we could see all of the layers that are actually in a scene. And it was incredible! I really enjoyed this.
Eipix: You also spent some time in our free-to-play QA. The producers said that they were really grateful for your feedback, because it was so different to the feedback they usually receive from testers.
Merrill: That surprises me in a way, but I guess that if I did this for a living, I would be looking at the game in an entirely different way. We play them, we look at them like players.
Bea: We had totally different reactions. I wanted to do the match-3 game without boosters! I like making my own rules for the game and I like changing the game in the middle of the rules!
Merrill: I'm the other way around.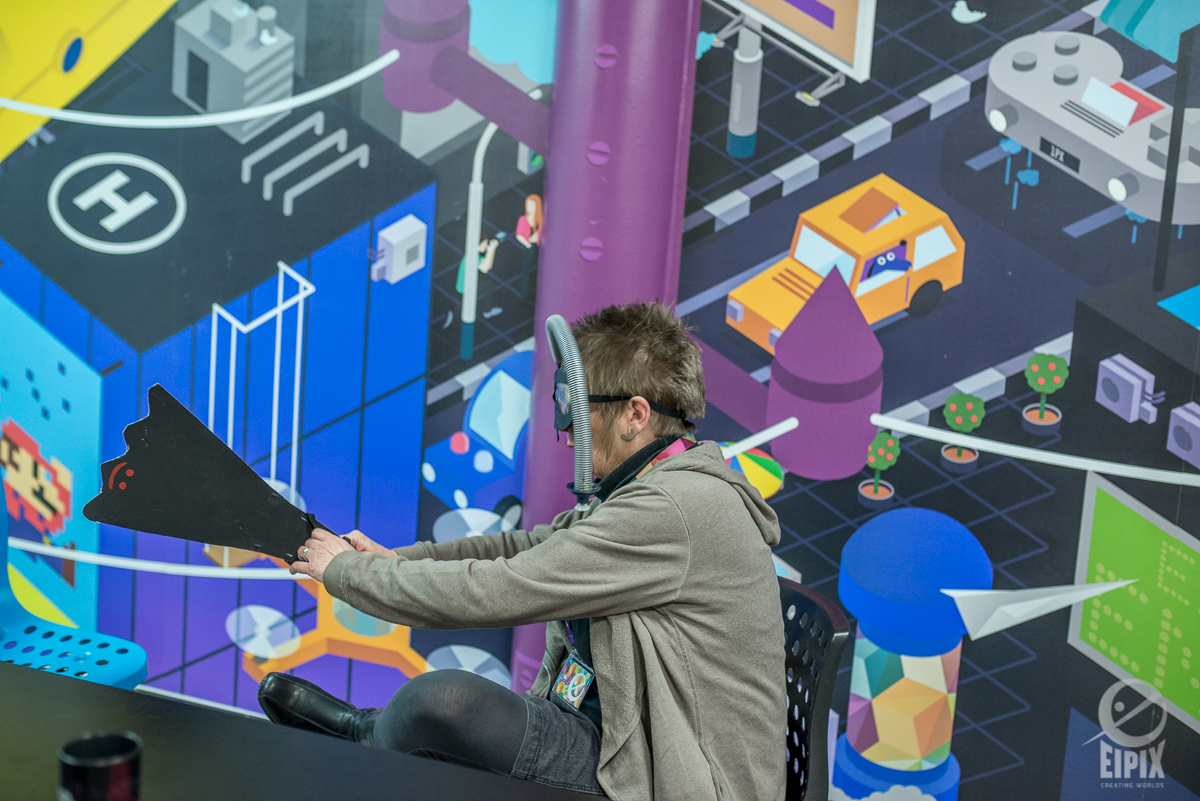 Eipix: Now that you've met the producers, and know a little bit more about the development process, are you going to be more critical in the way you approach future games you'll play.
Merrill: I don't think so. I won't be critical, but I will look for things, because now I know more about this. I will probably try to take the scene apart.
Bea: Same with me. My only question is how I could help you more? I enjoyed all of the games, and I'm surprised at how there are so many complaints in the forums. "Eipix is more quantity over quality" – I don't agree. There is so much attention to detail, and there is always something new, something very creative. They really move me, these games.
Merrill: You could do the math: there were 12 people, and you were doing a game every 6 months. Then it went to 20 people, and we were getting one every 4 to 5 months. Then it went to a hundred, and we're getting more games, more often. Those who say the quality has gone down because the quantity has gone up are the people who are not seeing that with a hundred people, of course the quantity would go up! Or else, what are you doing wrong? I feel that with every game you surpass yourselves. I played Hidden Expedition, and for the loading screen, now there's a little game where you have to find a ball – just something to keep you occupied while you're waiting for the game to load. Whoever thought of that one is great!
Bea: Everything works different for different people. I've always been critical about hidden object games, but I won't be more critical after this visit. I appreciate your work even more now. One habit will change though. From now on I'll read the credits first and check if people who I've met in real have contributed towards this game or, even more exciting, play characters in it.
Eipix: You were photographed for a future part in one of our games, but you don't know which game it will be. If you had a say in it, which series would you prefer to be in?
Merrill: Myths of the World and Amaranthine Voyage. Those are the two because I'm an eagle fanatic – I love eagles! I wear two, I've got three on my fingernails, my license plate says "EAGLE23". Those are the two games where I've seen eagles. Oh, and Free the Witch! When you go over the river, little eagles are flying over the river. I always notice the eagles! But neither one of those are what the photograph was taken for, I'm sure. I saw a picture on the screen – there were flags, recorders, and a celebrity was coming out, so I'm pretty sure it's not Myths of the World!
Bea: I don't want to know, I don't even want to think about it! I want to find myself playing the game. But if you insist on an answer, then Dead Reckoning. There are mysteries and murder cases to be solved and, for a person who has written crime novels using a "nom-de-plume", that would be appropriate.